Well, I think we got so busy with Advent and Christmas in the end that blogging has just fallen by the wayside. That's fine by me though, there were more important things to think about! Meanwhile I've just uploaded a random selection of photos I took on my phone that represent the season for us. Enjoy! (?)
Sophie's 'cowtapult' in the manger. We now have everyone in the manger apart from the 3 Wise Men who are expected on Sunday, but at this point of Advent, when 1stSister was home ill from school, she was still being her creative self.
My Christmas cake mix. The baked article ended up falling apart, but as with most foodstuffs, I enjoyed the creation and anticipation and we served it at our annual open house and it was appreciated.
Some pretties that 2ndSister made at our Church's Advent Activities. Most of them are on our Jesse Tree....
....our main Christmas tree being a new, white, pre-lit, £125 beauty from
Marks and Spencer
. The last time my husband and I purchased a tree was before we were married, when we were renting a home in the North-East of England, I was studying for my PhD, he had his first corporate job in the 'dot com boom' years, and we had a small cheap artificial number which is now our Jesse Tree. We will celebrate our thirteenth wedding anniversary this year, so I think we were finally due a new one!
Advent traditionally involves rolling out, shaping and dipping marzipan in melted chocolate for our family...
....some of us (3rdSister) like to throw our work on the floor along with our reindeer antlers. Terrible twos. Sigh.
Our Advent wreath came packaged with the over-large candles you can see, which have hardly burned down much, despite being lit every suppertime! Please note on the kitchen door, some stuck on snowflakes from
Lakeland Limited
- they promise to keep year after year, and made our kitchen look more festive.
2ndSister and 3rdSister dressed up for the Church Nativity. They are pictured by the altar, which has a nativity scene underneath. (1stSister was in the pews, huddled in her coat, with a book. She's 8 now, y'know. Not too old to stand and sing the carols, though.)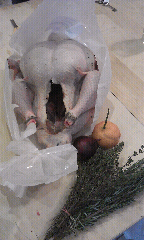 More festive food!
Braised red cabbage
with apples, onions and red wine. Roasted parsnip, tomatoes and spices to be whizzed into a
curried soup
. And, of course, a magnificent
KellyBronze
turkey stuffed with clementine, red onion and rosemary.
And finally, the
Pièce de résistance
- Jesus birthday cake! Yes, he gets one made every year and we get to eat some for Christmas breakfast if we like, after singing Happy Birthday (and before opening gifts.)
Merry Christmas everyone, and wishing you moments of true peace and joy in 2013.